Covalence EthicalQuote is a reputation index tracking the world's largest companies on Environmental, Social, Governance (ESG), Corporate Social Responsibility, ethics and sustainability, using online media monitoring, natural language processing and human analysis. It aggregates thousands of positive and negative news items published by the media, companies, and stakeholders. We provide reputation research and benchmarks to corporates, and ESG ratings, news and data to investors. Covalence SA is a limited company based in Geneva, Switzerland, founded in 2001.
We are proud to be featured in the book 10 finance innovations – Geneva, the sustainable finance laboratory published by Sustainable Finance Geneva in 2014. "On the occasion of its fifth anniversary, Sustainable Finance Geneva wished to showcase the work of financial pioneers and present ten emblematic innovations that demonstrate our region's creativity in this field."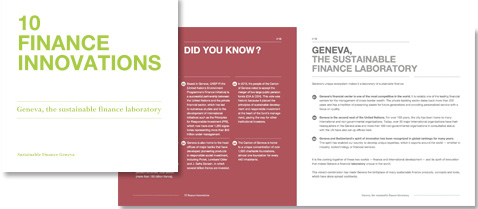 "Geneva-based company Covalence developed in 2001 a methodology for analyzing companies that includes both data released by the company and information published about the company by other sources – such as the media, NGOs, government bodies, etc. This innovation was made possible by the widespread use of the Internet. Covalence considered that it was essential to diversify sources of information to increase the credibility of ratings. As such, the critical perspective of NGOs, trade unions and the media provide a useful addition to those of the companies under scrutiny."
The EthicalQuote reputation index integrates thousands of news pieces gathered online and classified according to 50 criteria inspired by the Global Reporting Initiative, and to their positive or negative sentiment, regarding 3400 companies worldwide.
Covalence has developed a unique combination of automated content processing of texts in original language with qualitative assessment by an international team of analysts. More than 500 intern analysts have contributed to this work since 2001, in partnerships with many universities.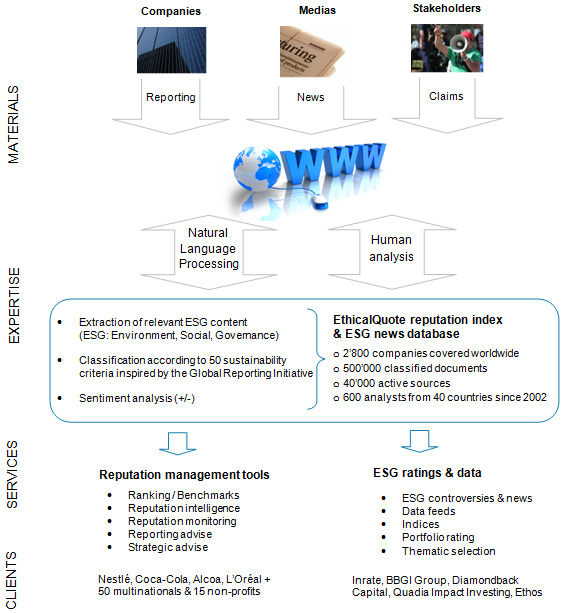 Companies and investors need extra-financial ratings that face the problem of defining ethics, rely on credible information and have economic relevance. The award-winning EthicalQuote system relies on international social and environmental standards while respecting cultural diversity, political pluralism and scientific uncertainty which characterize modern society. It is a barometer of how multinationals are perceived regarding ESG matters.
The Journal of Business Ethics published an article exploring Covalence data: Changes in the Covalence Ethical Quote, Financial Performance and Financial Reporting Quality. "We examine the equity valuation effect of press releases of upgrades or downgrades reflected in the Covalence Ethical Quote (CEQ). (…) We find first a significant causal relationship between stock market reactions and changes in the CEQ." More…
The EthicalQuote scoring system has brought the following recognitions and awards to Covalence: