23
09
2013
JPMorgan Chase was the most criticized company last week, as it has agreed to pay about $920m in penalties to US and UK regulators for "unsafe and unsound practices" including last year's "London whale" trading losses and dissimulations. Shell also received a large amount of negative comments after Nigeria's Bodo community rejected its compensation offer for damage from two major oil spills in 2008. In other news, Tokyo Electric Power continued to be criticized as radioactive water is leaking from the Fukushima nuclear plant, while Danone and Novartis are facing accusations of corruption of doctors in China.
On the other hand, Barry Callebaut and Hershey were the most praised last week as the two companies announced the completion of a primary school, community and farmer training center in Ivory Coast as part of their commitments to support farmer communities in cocoa-growing regions. Sodexo was named Global Sustainability Industry Leader by the Dow Jones Sustainability Indexes and its Canadian affiliate received PAR gold level certification from the Canadian Council for Aboriginal Business (CCAB). Alstom signed a Memorandum of Understanding with Scottish Power Renewables for tidal power devices, and Hyundai Motor received LEED certification from the U.S. Green Building Council for its Brenham facility (Texas).
The most praised companies last week were: Barry Callebaut, Hershey Co., Sodexo, Alstom, and Hyundai Motor Co.
And the most criticized were: JPMorgan Chase & Co., Royal Dutch Shell plc, Danone, Tokyo Electric Power Co. Inc., and Novartis AG.
The tag cloud below shows words found in news about these companies.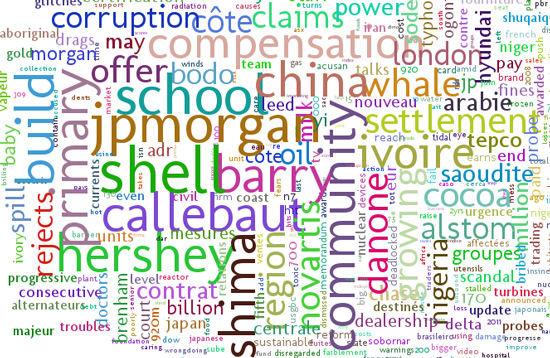 Words found in news about most praised and most criticized companies last week
This weekly review has been produced using the EthicalQuote reputation index run by Covalence, which tracks 2800 companies worldwide. It gives a summary of positive and negative news published last week about Environmental, Social, Governance (ESG), Corporate Social Responsibility (CSR), ethics and sustainability.
The EthicalQuote reputation index integrates thousands of news pieces gathered online and classified according to 50 ESG criteria inspired by the Global Reporting Initiative (GRI), and to their positive or negative sentiment.
The next heatmap represents the sentiment calculated for each of the 50 criteria last week. The 50 criteria are embedded into 7 groups, following the structure of the GRI. The color indicates the ratio of positive news / total news.
Ratio of positive news / total news for 50 criteria last week 0 %

100 %

The map below represents countries where action described in the news takes place, the color reflecting the ratio of positive news / total news for each active country using last week's data.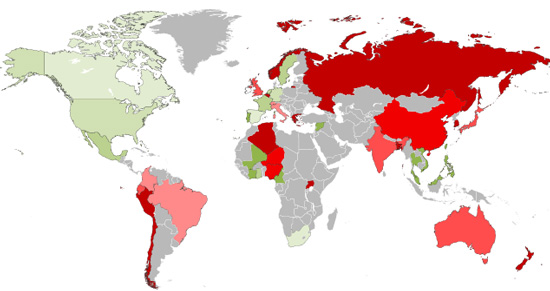 Ratio of positive news / total news 0 %

100 %
In terms of volume of information USA, China, France, Japan, Canada, Spain, UK.

Last week statistics
| | | | | | |
| --- | --- | --- | --- | --- | --- |
| Positives | 828 | Companies | 319 | Countries | 51 |
| Negatives | 704 | Mostly praised | 209 | Sources | 348 |
| Total | 1532 | Mostly criticized | 100 | | |
| Positives / Total | 54% | | | | |
These figures show the activity in Covalence EthicalQuote database during the week of 14 – 20 September 2013.

Historical statistics
| | |
| --- | --- |
| | |
| Positives | 342212 |
| Negatives | 197177 |
| Total | 539389 |
| Sources | 35289 |
| Start | 01.01.2002 |
| End | 20.09.2013 |
| | |
Subscribe to receive this weekly ESG News Review by email.